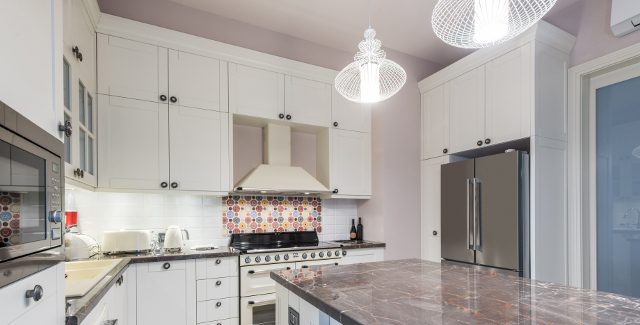 Oh, the possibilities for revitalizing the heart of your home—the kitchen. Here are some of the latest trends:
Epoxy countertops. While stone and marble countertops will always win fans, they can cost you. Big. But with poured epoxy, you can get a solid, silky smooth countertop in virtually any color or pattern you desire for pennies on the dollar compared to granite. You can even do it yourself with some tutorials and a little courage.
Pendant lighting. Whether it's teardrops from high up or a cluster of lantern-type lights, pendant lighting (especially above islands) has captured a lot of imaginations of late. They're easy to install, have a timeless look about them and can put out an amazing amount of light.
Hidden storage. Slide-out organizers have been popular for a while, and for very good reason—they work. With limited space, these organizers keep pots, pans and trays in one spot, handy and out of sight. They also give you flexibility in storing other items like smaller appliances.
However, if you like having some kitchen items on display (and conveniently within reach), try some floating shelves. Rough-cut wood on black pipe is a popular choice of late, as are shelves that provide pops of color in what might otherwise be an all-stainless or white room.