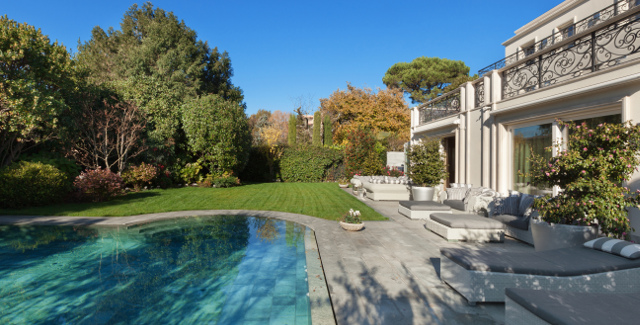 Ah, the sweet smell of chlorine water on a hot, sunny day. Makes you want to go for a swim, right? Well, if you can afford it and your backyard is ready, start now to plan for the dig.
Cost. In-ground pools can run about $50,000, so before you decide to make that kind of investment, you may want to consider an attractive above-ground pool (if your neighborhood allows it). It's easier to install and maintain, and may be the better option for your budget.
Ground around. Also consider whether the slope of your backyard is conducive to a pool at all. Installing a pool on ground that is not level jacks up the cost considerably and may make it unfeasible. In addition, make sure that the placement of the pool puts it in direct sunlight and that surrounding trees won't make cleanup a nightmare. Also, make sure that lines of sight from the house are attractive. If you can't see the pool from the house, it will make it less attractive to buyers when and if you sell. One more thing—make sure whoever is going to dig does so with full knowledge of what's underneath for mains and power lines!
Size and shape. In addition, think long and hard about the size, shape and placement in relation to the rest of the yard. Too small or too big will forever look weird relative to the other non-moving parts of your yard—driveway, house (of course), gardens and outbuildings.
A pool can be a sensational addition to your property. Just know what you're doing before you dive in!